In the Lights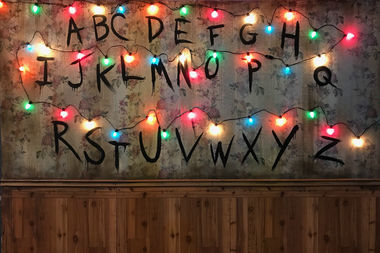 Hang on for a minute...we're trying to find some more stories you might like.
It's been a month since Maddie, my best friend, was kidnapped. While we were worried for her and wanted her back with her family, it was now December, and we needed to keep our spirits up for the holidays. It was Maddie's favorite holiday, making it all the more important.
My family just got our Christmas tree yesterday. Today we brought down all the ornaments from the attic, and it's time to decorate the tree!
Mom cranked up some Christmas tunes, singing along to Mariah Carey's "All I Want For Christmas Is You".
"I don't want a lot for Christmas but there is just one thing I need!" I sang, jamming out to my favorite song.
"I don't care about the presents underneath the Christmas tree!" Mom continued.
We both hung a few ornaments, dancing around and laughing.
"I LOVE Christmas!" I said. "My favorite part is jamming out to Christmas songs!"
"Let's hope for a white Christmas!" My little sister, Audrey, joined in on tree decorating, hanging all the non-breakable ornaments.
Audrey was my 6-year-old younger sister. She can get annoying sometimes, but she makes stellar snowmen (no she's not Elsa if you were wondering. She's just creative). Or should I say snowGIRLS?
I love making snowmen with Audrey. One time she attempted to put a ponytail on a snowman. I guess she wanted to make it look like a snowgirl instead of a snowMAN. I helped her place it in a spot so it didn't fall off, and I got a good picture of it before it DID fall off.
"Yeah. The weather forecasts are predicting 3 feet of snow this weekend," I told her, leaning down to look at her.
"Yay! Let's go jump in the snow and make snowmen!" Audrey exclaimed.
"Chestnuts roasting on an open fire, Jack Frost nipping at your nose…" I trailed off since I didn't really know much of the song.
"You'we a good singaw, Alexa." Audrey complemented.
"Thanks, Audrey," I said, hanging up another ornament on the tree.
The butterflies placed on the tree (they were so fragile that they didn't have a string to hang on the tree) made the tree glimmer and shine, adding to the bright & colorful lights already wrapped around the tree.
"Wow. The tuhwee looks so pwetty with the buttaflies," Audrey said, dancing around it in her little way.
"Audrey, can you please go upstairs for a minute? Alexa and I want to talk about something privately," Mom asked, and Audrey headed up the stairs.
"What's going on, Mom?" I asked once Audrey was out of the room.
"We need to talk about Maddie's disappearance." Mom informed me.
Suddenly, the lights on the tree started blinking and flashing, without warning. No other lights in the house did the same thing. Just the tree lights.
"Is there something wrong with the lights?" I asked, looking to see if there was something wrong with the outlet or something.
I was really confused, and maybe a little scared.
"Um, I'm not sure." Mom answered.
She went over to the power strip, unplugging the lights.
"Anyways,-" mom started to continue, but the lights started blinking and flashing again.
"What is wrong with the lights on the tree?" I asked. "We just unplugged them."
Mom walked over to the tree, and the lights were still unplugged.
"That's a little creepy. They're unplugged, but the lights are working," Mom answered, sitting back down on the couch.
"Maybe if we ignore the lights, they won't go crazy," I suggested. "Or we just get new lights."
"OK. Anyways, so Maddie's dream diary was found near a pond, covered in goo and seaweed. So it was determined that Maddie's last known location was a pond. Police think that's where she was kidnapped." Mom continued.
I could see the lights in the background, still going crazy. I don't know why they were going crazy when they were unplugged. But I was tired of just paying attention to it, so I let it go.
Then I had a crazy thought. Maybe someone was communicating through the lights?
I walked back over to the tree. I was going to test out my theory.
"Alexa, I already tried unplugging the lights. They'll still blink and flash." Mom told me, but I ignored her.
I took a deep breath, trying to conceal how skeptical I was. I didn't like associating with the paranormal world and talking to spirits and stuff. But I wasn't afraid to talk to Maddie, and maybe Maddie was the one making the lights go crazy. Yes. I sound crazy, but maybe things that happen in Stranger Things could happen in real life.
"Is anyone there?" I asked. "Blink once for yes, blink twice for no."
I followed the rules Joyce Byers created with the lights.
The lights blinked once.
OH MY FREAKING GOD MY THEORY WAS TRUE!! HOLY FREAKING COW!!!
I was internally a hot mess, my mind spinning with possible yes or no questions. I looked at Mom. Her jaw had dropped a mile.
"Is this Maddie?" I asked, crossing my fingers the answer was yes.
I hated talking to people I didn't know. And, saying I had no experience whatsoever with the paranormal world, I didn't know what said spirit was capable of. Or if it would lie to me.
Was I talking to a demon?
The lights blinked once.
OH DEAR GOD PLEASE LET THIS PERSON BE RIGHT.
I decided I was going to make sure it was Maddie.
"Did you or did you not attempt to make out with a first-grade boy in kindergarten?" I asked.
The lights blinked once.
OH THANK GOD I HAVE NEVER BEEN MORE RELIEVED IN MY LIFE.
"Your dream diary was found at a nearby pond. Were you kidnapped while at the pond?" I asked.
The lights blinked twice.
Um, plot twist?
Then who placed Maddie's dream diary in the pond?
"Do you know who placed the diary there?" I asked the lights.
The lights blinked once.
Who was it? Who placed the dream diary there?
I wanted to ask that question, but I couldn't since there was no other way of communicating but the lights blinking.
Then, all of a sudden, Audrey came running down the stairs, screaming. The lights started to go crazy, and this weird figure stretched out from the wall. It was inching closer to me, Mom, & Audrey. Audrey was screaming her head off.
"RUN. RUN, ALEXA, RUN. THIS TIME FOR YOUR LIFE!", she was yelling.
"Run," I said, and we all booked it out of the house.