Tom Varano – Emotion into Art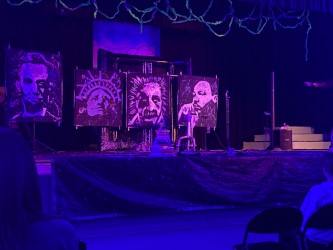 Tom Varano of Emotion into Art visited Middlesex Middle School to speak with students. Mr. Varano painted a variety of portraits to a crowded room of engaged and excited Dragons, while also sharing some life advice along the way.
Varano spoke about how as young people, we should chase our dreams. And in order to achieve our dreams, we have to think B.I.G.
B is for BOOKS! I is for INDIVIDUAL! and G is for GOALS! Mr. Varano painted a series of portraits and the MMS students voted–by way of round of applause–on their favorites. For the sixth graders, they loved the portrait of President Abraham Lincoln!
Students left the assemblies in a flurry of excitement. Mr. Varano showed us all a whole new way of thinking, and understanding that everyone is going through something. Thank you, Mr. Varano!!!