Author Jerry Craft Visits MMS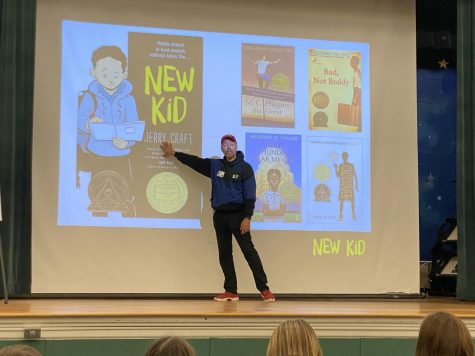 Jerry Craft, critically acclaimed author of the New Kid series, visited Middlesex Middle School on Monday, October 24th. Craft gave presentations to the sixth and seventh grade classes. Craft is the author of various graphic novels, including the Newberry Award winning New Kid, its sequel Class Act, and the upcoming follow-up School Trip. 
Craft spoke to Middlesex students about his journey to becoming an author and illustrator. Born and raised in Harlem, New York, Craft explained to students that as a child he hated reading! He liked reading comic books and drawing, two activities that his teachers discouraged. Craft told students that throughout their lives they may have people tell them what they cannot achieve, but that they were capable of anything if they put their mind to it.
Finally, Craft explained to students where the idea for New Kid came from, and the process he takes when developing a story and its characters. Craft wanted to tell stories of African American students that weren't, "History or misery. I
wanted to break the single narrative story." By developing the story of Jordan Banks, Craft created a character and narrative that all sorts of students could relate to. And since the publishing of New Kid in 2019, Craft's own world has been turned upside down. He became a multiple-time New York Times bestselling author, an inspiration for storytellers around the world, and is now working with NBA superstar LeBron James on developing a live-action adaptation of New Kid to hit theaters.
Middlesex Middle School students were enthralled by Craft's journey, filling the auditorium with applause throughout his hour long presentation. Thank you, Mr. Craft, and we hope to see you back at Middlesex again soon!